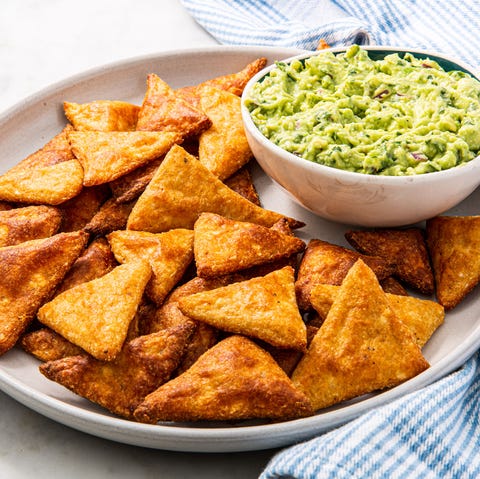 With only two main ingredients these Keto friendly chips are so easy to make! Crispy and salty it's just what we crave. We seasoned ours with chili and garlic powder but you can keep them plain with just salt and pepper or use any of your favorite seasonings. Serve it alongside our ultimate guacamole or buffalo chicken dip. Or take these in a whole other direction and makes these sweet! Sprinkle these with cinnamon-sugar before baking and dip them in a cream cheese dip!
Have you made these yet? Let us know how it went in the comments below!
INGREDIENTS
2 c. shredded mozzarella
1 c. almond flour
1 tsp. kosher salt
1 tsp. garlic powder
1/2 tsp. chili powder
DIRECTIONS
Preheat oven to 350°. Line two large baking sheets with parchment paper.
In a microwave safe bowl, melt mozzarella, about 1 minute 30 seconds. Add almond flour, salt, garlic powder, chili powder, and a few cracks black pepper. Using your hands, knead dough a few times until a smooth ball forms.
Place dough between two sheets of parchment paper and roll out into a rectangle ⅛" thick. Using a knife or pizza cutter, cut dough into triangles.
Spread chips out on prepared baking sheets and bake until edges are golden and starting to crisp, 12 to 14 minutes.