In Mood of Some Snacks?
Check out our Best Keto Snacks to Stock your Kitchen
Instructions
Broccoli soup
Rinse the leek thoroughly and chop finely, both the green and the white parts. Cut off the core of the broccoli and slice thinly. Divide the rest of the broccoli into smaller florets, and reserve.
Place the leek and the sliced broccoli core in a pot and cover with water. Add bouillon cube. Season with salt, and bring to a boil for a few minutes on high heat until the broccoli stem is just easily pierced with a knife.
Add the broccoli florets. Lower the heat and simmer for a few minutes, until the broccoli is bright green and tender. Add cream cheese, cream, freshly ground pepper, basil and garlic.
Blend with an immersion blender until desired consistency.
If the soup is too thick, thin it out with water. If you'd like it to have a slightly thicker consistency, add a touch of heavy cream.
Cheese chips
Fit a large, rimmed baking sheet with parchment paper. Grate the cheese, and place mounds by the tablespoon on the parchment. Leave 1 inch between the cheese mounds.
Top each cheese mound with paprika.
Bake in oven at 400°F (200°C) until the cheese has melted, about 5-6 minutes. Enjoy with a soup or as a snack.
Tip!
Add different herbs and spices to the cheese mounds for different flavor profiles. Oregano, a touch of cayenne, fresh thyme, or rosemary can all make these chips uniquely and utterly irresistible!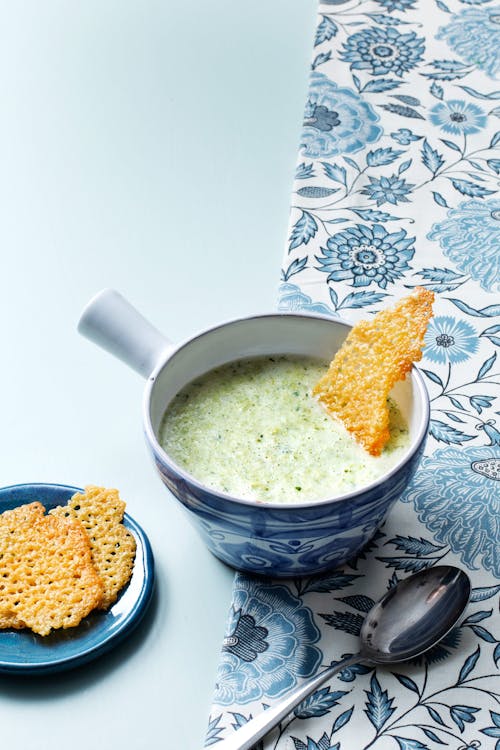 Ingredients
Cheese chips