Cookie Dough Keto Bombs – Keto Breakfast
Fat bombs alone make us want to go on the Keto diet, but we'll take any excuse to eat cookie dough. These are perfect to keep stored in the freezer for whenever the craving hits!
INGREDIENTS
1/2 c. (1 stick) butter, softened
1/3 c. Keto friendly confectioners sugar
1/2 tsp. pure vanilla extract
1/2 tsp. kosher salt
2 c. almond flour
2/3 c. Keto friendly dark chocolate chips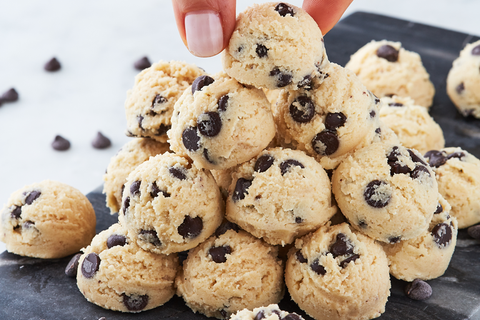 DIRECTIONS
In a large bowl using a hand mixer, beat butter until light and fluffy. Add sugar, vanilla and salt and beat until combined.
Slowly beat in almond flour until no dry spots remain, then fold in chocolate chips. Cover bowl with plastic wrap and place in refrigerator to firm slightly, 15 to 20 minutes.
Using a small cookie scoop, scoop dough into small balls. Store in the refrigerator if planning to eat within the week, or in the freezer for up to 1 month.
Your Keto Diet is Ready
Nutrition (per serving):
70 calories, 2 g protein, 2 g carbohydrates, 1 g fiber, 0 g sugar, 7 g fat, 2 g saturated fat, 35 mg sodium